Basic 2 Router & 1 Switch CCNA 200-125 Lab Kit
Product Description
Basic 2 Router & 1 Switch CCNA 200-125 Lab Kit
This is a kit in our Basic Series CCNA Kits. It uses a WIC-1DSU-T1 module and a special crossover cable instead of the more common place DB60 or smart serial module. But it works just fine and saves you money!
This base kit includes two 1841 128/32 FastEthernet routers, two WIC-1DSU-T1 modules, one 2960-S switch and all the accessories to round out your kit. You can also select to upgrade the routers and switch in the kit from the drop downs below.
In regards to router upgrades here is what is available:
The base 1841 128/32 router is a dual FE ISR router that comes with two HWIC slots and runs 12.4(25). This router can do your NAT/PAT labs and CCP. The256/64 upgrade allows you to run IOS 15.1(4). The 384/128 upgrade allows for multiple IOSes.


The 2801 upgrade is also a dual FE ISR router that offers two additional HWIC slots over the 1841 with enhanced functionality, dual AIM slots and PVDM slots on the motherboard for future Voice use. 256/64 runs 15.1 IP Base and 384/128 runs IOS 15.1 Advanced IP Services for CCNA Security.


The 2811 upgrade can do everything the 2801 can and more. It is more flexible, has additional Network Module slots and is the preferred router to match up with the CCNA Voice lab workbook. 512/128 runs IOS 15.1(4). Advanced IP Services for CCNA Security and Advanced Enterprise Services for CCNA Voice.


The 2821 upgrade has all the functionality the 2811 does plus two Gigabit Ethernet interfaces. This way if you are going to use it in your home network, you can have blazing fast speeds! 512/128 runs IOS 15.1(4). Advanced IP Services for CCNA Security and Advanced Enterprise Services for CCNA Voice.
In regards to the switch upgrade, here is what is available:
The base 2960-TT-L supports 15.0(2) IOS and IPv6 addressing and can do very limited Layer 3 static routing.
The 3550 upgrade supports true Layer 3 routing while running 12.2(44)SE6 EMI IOS.
The 3560-TS upgrade supports 15.0(2)SE5 IOS and true Layer 3 routing and PVLAN and QoSfeatures the 3550 does not.
The 3750v2 upgrade is the newest series of switches that we offer that you will see in the real world. These switches support 15.0.2-SE10 and have StackWise ports that none of the other switches have so you can stack them and manage them as an entire entity to make it easier to manage a large enterprise environment.
Here is a listing of the base kit of which you can select any of the upgrades we described above.
Tested and Guaranteed working!
Two 1841 128/32 FastEthernet Routers (can be upgraded)
One 2960-TT-L switch (can be upgraded)
Two WIC-1DSU-T1 modules
Two Ethernet Patch Cables
Two Ethernet Crossover Cables
One WIC-1DSU-T1 Serial Crossover Cable
One Console Cable Kit
Three Power Cables
One Training CD
1 Year Warranty!
Additional Items Include:
470 Page CCNA Lab Workbook Covering 60+ Labs! ($44.99 value)
How & Why We Subnet Workbook ($19.99 value)
CCENT, ICND2 & CCNA Practice Exam Simulators ($149.97 value) (Includes practice test files and trial of software. Software requires paid activation past the free trial)
CCENT, ICND2 & CCNA Boot Camp Study Guide eBooks ($89.97 value)
CCNA CRAM Sheet ($14.99 value)
TCP/IP Study Poster ($9.99 value)
CertificationKits TFTP Server
CertificationKits Subnet Calculator
CertificationKits Binary Bits Game
50 CCNA Instructional Videos
Cisco Network Assistant
Cisco Router Password Decryptor
Cisco VPN Client 5.0.04.0410
Port Scanner
WinPcap 4.1.3
WireShark 1.10.05
IOS Backup as noted above for the routers and switches
Cisco Configuration Professional (CCP) 2.8 for 1841/2800 Series Routers
Optional Upgrade To Smart Serial Cards & Cables Includes:
(Replaces 1DSU-T1 cards and WIC-Crossover Cables)
Two WIC-2A/S Modules
One Smart to Smart Back to Back Serial Cables
***Why should you consider upgrading from the HWIC/WIC-1DSU-T1 Serial cards to the Smart Serial Cards?***
The WIC-1DSU-T1v2 Serial cards are a great, budget friendly option for lab purposes. However, if your budget allows, we always recommend upgrading to the smart serial WIC cards and Smart Serial-to-Smart Serial cables. Smart serial is a more current technology that offers a faster DCE/DTE connection that will also use the same clock rate command you will see in all of your labs on every exam, regardless the level. Once again, the WIC-1DSU-T1v2 Serial cards will work just fine (the clock rate command is slightly different and that difference is covered in our CCNA Lab Workbook), but if you want to be the most up to date and want the clock rate commands to match identically like you would see when you are sitting your exam, the smart serial upgrade is an excellent choice.
The FTDI Console Cable Upgrade swaps out the classic console cable for this new solution to complete your console connection. This is our newest option for your console connection. This cable has the new FTDI chip installed and eliminates the need for both the classic console connection and the USB-Serial Adapater! It goes directly from USB to RJ-45! Another great bonus to this, from our testing, is that it has a near perfect success rate in the break sequence working! (used to reset the router, password recovery, etc). This is a big bonus because the converters can be a bit of a pain in that department. All around, this is an excellent addition to any techs tool box! *If you do not have a 9-Pin serial port on your computer (most modern computers do not) or a USB-to-Serial converter, you will need this to complete your console (management) connection. We highly recommend this.
This is a complete Cisco certification kit and much more than just hardware to build a lab. Obviously we include the hardware you need but we also include ALL of the study material you need to pass your exam in one kit which we will show you samples of below. No other kit contains a physical 450+ page CCNA Lab Workbook, a physical 100 page Subnetting workbook, our three ICND1, ICND2, and CCNA practice exam simulators so that you can break your exam studies up in the way that best fits your study style. These practice exam simulators are so good that when they are purchased as a solo product we offer our Pass Guarantee. Then we also include our ICND1 100-105, ICND2 200-105, and CCNA 200-125 Boot Camp Study Guides in Windows eBook format. These are not pirated copies of eBooks, but fully licensed copies that are 436, 384, and 780 pages respectively! So let's take a look at some of these samples and then we will get to all of the other materials we include which we have not mentioned yet!
CCNA Lab Workbook
Here is a sample topology from our 450+ page CCNA Lab Workbook that will walk you through over 60 labs. You can see them all listed at the bottom of this page. Notice how we have redundant links and combine both WAN and LAN technologies in our lab as they each use different encapsulation types. These are the types of complex labs that will help you actually learn the topics in the CCNA exam. This is a $44.99 value alone.

Click here to download the sample CCNA EIGRP Lab
Subnetting Lab Workbook
Now let's take a look at a portion of a chapter in our subnetting workbook by downloading the sample chapter in pdf format here. Notice we explain the theory behind the process and then give you written lab exercises at the end of each section. You will get over 100 practice questions to burn subnetting into your brain! Keep in mind you will receive the full printed book when you order the kit. This is a $19.99 value alone.
ICND1, ICND2, and CCNA Exam Simulator
Now let's take a look at a sample of our CCNA exam simulator program which you can download a trial version here. Notice that these are not simple questions like what protocol runs on port 21. You have to be able to read and understand the topology, comprehend the different subnets shown and understand what they infer that Cisco is not going to tell you and then draw conclusions based upon the problem that is described in the question. These are not the kind of questions you can brain dump. These force you to learn the concepts covered on the exam and prepare you for the types of questions you will see on the exam. We also provided detailed explanations on why each possible answer is right or wrong. You need to understand why you answered questions incorrectly so you don't make the same mistake twice! These are so good that when purchased as a solo product we offer our Pass Guarantee. Each one of these normally costs $49.99 each when purchased separately for a total value of $149.97. Compare this to the exam simulators offered by Transcender for $139 or Measure-Up for $99 per exam!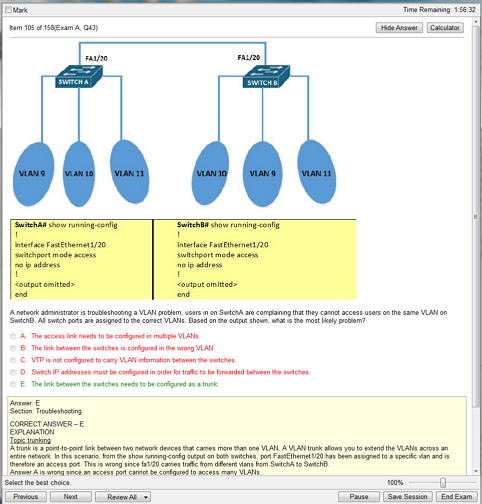 ICND1, ICND2, and CCNA Boot Camp eBooks
We also include Windows eBooks from our ICND1 100-105, ICND2 200-105 and CCNA 200-125 boot camps (these are not pirated eBooks). You can click the link to download a PDF sample of our Advanced IOS Management chapter. We offer these eBooks individually for $29.99 each but we include all three in our kits for free! That is an $89.97 value.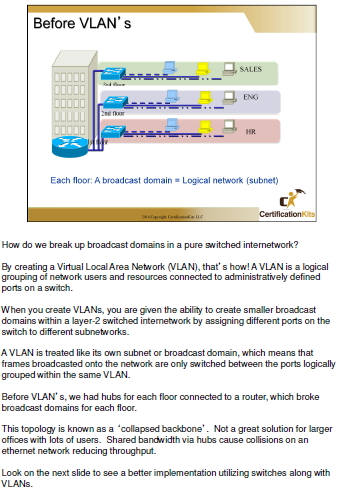 CRAM Sheet, TCP/IP Poster & CCNA CBT Training DVD
You will also get our CCNA CRAM Sheet. This six page, full color laminated foldout is a great addition to your CCNA study arsenal which is easy to carry around so you can study the exam key points anywhere. You will also get our CCNA TCP/IP Study Poster to hand in your cube or study area. It compares and contrasts many of the differences between IPv4 and IPv6 for your CCNA exam. You can also add as an option to your kit our CCNA CBT DVD. This CCNA computer based training is comprised of 44 videos that total more than 22 hours of CCNA training that you can get as a $50 add-on to your kit. This is the same instruction you would receive it you sat in a full week CCNA boot camp.
Support
Having a problem with one of our lab scenarios? We include free lifetime support for our customers. Just shoot us an email and we will help you through it!
The total value of our study materials that are added to your kit is $329.90! You will need to have these extra items like a lab workbook, subnet workbook, practice exams and study guides. Why buy them elsewhere when you can get them for free with your kit? The total value of these items are more than the cost of most of our kits and it is all included for FREE!
Additional Tools and Study Material Included
We also include a ton of other cool things to make your lab experience the best it can be such as our TFTP Server so you can do your IOS upgrade labs, our Subnet Calculator for praticing subnetting, our Binary Bits game to make learning Binary fun, 50 Instructional videos and the many more tools listed below!
Additional Items Include:
CertificationKits TFTP Server
CertificationKits Subnet Calculator
CertificationKits Binay Bits Game
50 CCNA Instructional Videos
Cisco Network Assistant
Cisco Router Password Decryptor
Cisco VPN Client 5.0.04.0410
Port Scanner
WinPcap 4.1.3
WireShark 1.10.05
IOS Backup as applicable to the kit Routers and Switches
Cisco Configuration Professional (CCP) 2.8 for 1841/2800 Routers
Lab Workbook
What is covered inour 450 page CCNA Lab Workbook? Below you will see listed all the labs in the workbook. Please note that depending on the routers and switches in your lab, you may or may not be able to fully complete every lab.
Chapter 1 – Networks Defined
Chapter 2 – CIsco Router and Switch Interfaces plus Ethernet
Chapter 3 – Managing a Cisco Internetwork
Chapter 4 – TCP/IP Addressing & Subnetting
Chapter 5 – IP Routing
Chapter 6 – Layer 3 Redundancy
Chapter 7 – Advanced TCP/IP
Chapter 8 – Security
Chapter 9 – Internet Connectivity Using Network Address Translation
Chapter 10 – Switching
Chapter 11 - Introduction to IPv6
Chapter 12 - Support for Network Management Protocols
Chapter 13 – Wide Area Networks
Chapter 14 – Troubleshooting and Maintaining Switch Based Problems
Chapter 15 – Troubleshooting and Maintaining Routing Based Solutions
Chapter 16 - Cloud Computing
Chapter 17 - Software Defined Networking (SDN)
Chapter 18 - Wireless LAN
Find Similar Products by Category
Customers also viewed